In the software business, probably the second most popular topic (after VC funding) is mergers and acquisitions, or M&A. That's likely because they both have to do with MONEY and folks tend to light up when dollar signs are involved. There are many types of tech M&A transactions, and specifically software and SaaS M&A transactions. They are not all created equal and shouldn't be lumped into a single bucket for discussion purposes. In many ways, M&A is the lifeblood of the software business. M&A  provides liquidity exits for the vast majority of software startups as well as a new growth path for more established companies. Many, if not most transactions can be positive, win-win for both parties. But I'd like to discuss one particular type of transaction I have my questions about the efficacy of: the software industry roll up.
First, a definition from WikiPedia: "A Rollup (also "Roll-up" or "Roll up") is a process used by investors (commonly private equity firms) where multiple small companies in the same market are acquired and merged. The principal aim of a rollup is to reduce costs through economies of scale."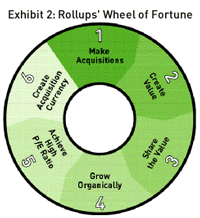 As defined above, the rollup is a favorite tool of private equity (PE) investors. But there is really nothing PE-specific about the concept of a rollup. Any software company, even those not backed by a PE firm, could choose to do a software rollup in their market segment. The question is "should they"? Let's dive in and take a closer look at the specifics of software industry rollups, when they make sense to do and when they don't, as well as some key success factors.
The platform company
The ideal rollup platform company, in my mind, is based on its technology equivalent: a software platform. By this I mean an application or technology stack which is broad based and provides great opportunity to build upon it. This is done by plugging in or integrating peripheral but complementary software applications onto it. A M&A roll up works in the same conceptual fashion, with the "platform" company taking the place of the technology platform and the target acquisitions the the analogy to the complementary applications. Again, this is my view of the ideal scenario. But a software company  needn't fit my ideal so tidily to be a good platform company for a software rollup. A platform company used to start a rollup can actually start out as any software business in a segment that is attractive, either due to its growth potential or sheer size. It's best if the platform company has grown big enough to act as the "mothership" for what is usually smaller add-on acquisitions. The platform company generally provides the starting "infrastructure" for the much larger company that the rollup is intended to be built into. This comes in the form of a existing, more mature corporate culture along with well executing shared functions that can be the basis of easy cost efficiencies, such as human resources, financial management and potentially even marketing and sales.
Special roll up issues in software-based businesses
One of the most problematic issues of rolling up a software category is what I call the "code compatibility" issue. This issue manifests itself in two ways:
In buying up many different software companies, you can easily acquire quite a variety of code styles, tools and technology platforms. This can make the technological upkeep of your products quite complicated, not the least of which is having to find and retain software engineers with the specific tools/platform expertise, to maintain and upgrade the various acquired products.
Even more critically, if you are doing the type of rollup where you are acquiring and absorbing DIRECT COMPETITORS within a market segment, the code compatibility concerns are greatly magnified. That's because you now have two (or more!) unique code bases aimed at the exact same customer type. In this case you are faced with difficult choices, none of them great in my estimation. You can choose to keep both code bases alive, possibly by segmenting into high-end and low-end brands, as one example. You almost always need to keep multiple products alive for some time, which is very inefficient. This is true even if you adopt the second primary strategy: attempting to "merge" multiple products into a single code base. Unfortunately, while this strategy is appealing on the surface, it usually results in product compromises and you end up alienating one or more of the existing customer bases, making those customers easy pickings for alert competitors. You may have noticed; I'm not a big fan of software rollups which attempt to combine direct competitors – in most cases. There are always exceptions, of course, for example if the valuations are just too attractive and therefore allow you to absorb some of these operational issues while still ending up with a positive transaction.
Good reasons for a software industry roll up
Buying innovation and technical talent by a larger, more process-oriented, bureaucratic culture – these are usually smaller, less risky acquisitions
True synergy where accumulating complementary applications into one company has a true multiplicative effect on enterprise value
Restarting growth by moving a stagnant business into a faster growing segment
True cost efficiencies are gained by buying complementary and compatible companies
Bad reasons for a software industry roll up
Seeking scale for scale's sake
A flush corporate treasury
Historically low borrowing costs
Management addiction to deal making
Animosity toward direct competitors resulting in wanting to "take them out" at any cost
Desire to totally elimination competition (can have bad regulatory effects)
Key factors in a software rollup's success or failure
Bottom line, the key to a successful rollup is how much leverage you're able to get from the transactions. This can include many different types of leverage such as adding scale, adding technological talent/expertise, adding marketing talent expertise, filling an existing hole in a product line, various cost efficiencies and more. But how much leverage you are able to gain from the transaction vs. the associated costs of the transaction will ultimately tell the tale of success or failure.
It's important to note here that when I talk about "costs" I'm not just referring to the price tag of the acquisition (which is obvious) but also INEFFICIENCIES which are introduced by the transactions. Yes, even though the big justification of rollup transactions is often to gain efficiencies, inefficiencies can also easily accrue from an M&A transaction.
The best example of such an inefficiency is the code base incompatibilities discussed above. But there are also many subtler possibilities such as cultural mismatches between the platform company and the acquisition targets, a reduction in nimbleness due to getting TOO big, a weaker capital structure which limits organic growth opportunities and also can increase borrowing costs, etc. There are many "unintended consequences" of M&A, which if not thought through ahead of time, can dilute the positive effects that can be gained by a roll up. They can even kill a company in extreme cases.
You probably noticed that I see two basic types of software roll ups. One is putting together complementary, non-competing software applications within an overall software market segment. I find that while this strategy has the not inconsequential execution risks of any M&A strategy (more on M&A execution risks here), this approach can be a real winner if planned thoughtfully, along with the price of the acquisition targets being reasonable.
The second and MUCH more problematic type of software roll up is one in which direct competitors are bought up in an attempt to concentrate market share and  limit competition. This is often an attempt to gain a near monopoly position in a market segment. I believe these transactions are fraught with danger as I've discussed above and should almost always be avoided.
That's what I think about roll ups in the mobile software, cloud and SaaS business. My viewpoints may be controversial to some. Do you have your own experience with roll ups? Differing viewpoint as well as additions to the discussion are always welcome. Please Use the comment field below to inform and educate us on your own experiences.
Follow Phil Morettini and Morettini on Management via Twitter, Facebook, LinkedIn, RSS, or the PJM Consulting Quarterly Newsletter. Contact Phil directly at info@pjmconsult.com
If you liked this post please share it with you colleagues using the "share" buttons below: